5 Bridal Shower Gifts Every Bride Will Love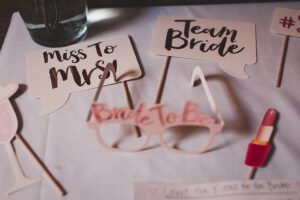 The days leading up to the wedding are exciting for all parties involved, friends and family of the bride-to-be included. There's a slew of pre-wedding celebrations that you'll find yourself needing plan and buy gifts for—a bridal shower coming up first—and while there may be a registry, nothing beats a unique and thoughtful present.
Newlywed Kitchen Cookbook
In every newlyweds' foreseeable future are a series of entertaining guests for dinner. It's just a fact of life. People naturally gravitate towards the happy, just-got-hitched aura in a new couple's home, and who can blame them?
Arm the future missus with a Martha Stewart cookbook that will give her a toolbelt of easy and delicious recipes for everyday meals, as well as for casual gatherings. The mister can even join in the kitchen, et voilà, your gift has opened up an opportunity for a couple activity!
Electric Pour-Over Kettle
A chic pour-over kettle is the perfect addition to a new kitchen nook. Cosmopolitan's review of the Stagg EKG Pour-Over Kettle proves that form can go hand-in-hand with function. The pour-over kettle you're looking for should be able to heat water quickly and keep it in that temperature until the next pour.
This is a present for a bride who happens to be a tea lover, coffee enthusiast, or even just a fan of stylish yet practical home items.
Beauty Supplements
Planning a wedding can be a time-consuming and stressful task, it's easy for brides-to-be to fall into the habit of putting self-care on the back burner. Giving them supplements is a gentle nudge for them to take care of themselves and it shows that you want them to feel and look their best on the big day.
PrettyMe's review of Frozen Collagen Supplements breaks down the ingredients and their scientifically-proven effects on overall well-being. Do your research, pick out a great product with a safe and effective formulation, and maybe even write down little self-care reminders for the bride-to-be.
Passport Holder
The wedding festivities don't end after the wedding ceremony. Every bride looks forward to the dreamy honeymoon and it's all she can talk about apart from the actual wedding.
Send her off on her honeymoon and the adventures beyond with a Barbara Ignatiev designed leather passport holder that looks just as fun and exciting as you wish her romantic getaway is going to be. If you're gunning for being the best gift-giver, you can even get the newlyweds tickets to special events or local shows at their honeymoon destination.
Monogrammed Towels
What bride doesn't get giddy when she sees her new initials monogrammed in fancy threadwork? There's never a surplus of luxurious towels in a new love nest, especially not ones as luxurious as Land's End Turkish spa towels.
Having quality towels at home can evoke feelings of still being in a blissful honeymoon, and they'll have you to thank for that.
Now that you have the gift taken care of, you can start planning the actual unforgettable bridal shower. Check out our rundown of "Bridal Shower Themes for Every Bride".
Written exclusively for Reynoldstreasures.com.
by Aria Cahill