It seems, in the past few months, that we've moved from lockdown to footloose and back to something in between. As quickly as states began to reopen, suggesting to revelers that the celebrations were back on, sudden spikes in covid-19 cases signaled a return to more stringent safety measures, such as mask requirements and continued emphasis on social distancing. But for those looking
to get their wedding on, social distancing doesn't have to mean no nuptials.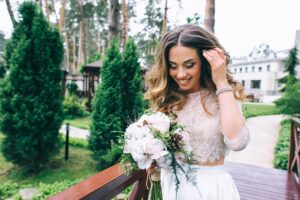 New Ways to Celebrate
There's something in the wedding spirit that loves a challenge, and covid-19 has brought out the creative in the soon-to-be hitched party planners. You may have to rethink the big gathering you once envisioned, but you can still have a truly memorable wedding, even under social distancing restrictions. Here are some ways to celebrate:
● The Minimony: this covid-driven term now bouncing around the internet means creating a more intimate wedding plan. Cull your list down to a core group of family and closest friends, find a wonderful small venue, and let the vows fly. The added benefits are you can save money from that big wedding budget that can be reinvested in a high end open cocktail bar or gourmet food. Or you can always throw a party later for those you had to cull from the list.
● Hitch Now, Party Later: speaking of delayed parties, some couples are opting to hold a private ceremony now and celebrate with friends and family later after the crisis has passed. Another variation of this is to hold the ceremony via a digital platform for all to see.
● Destination Weddings: another way to use those saved wedding funds is to turn your intimate celebration into an adventure. Pick a dream location and give your guests advanced warning that the road (or plane) trip is on. Many popular destinations have now geared up to help couples celebrate in style and covid safety.
● The Outdoors I Do: taking your nuptials into the great outdoors is a perfect way to find large spaces that help you space even bigger groups out into that six-foot safety zone. And research suggests that outdoors is the safest place to be to prevent the spread of corona.
● Satellite Celebrations: Planning your event where there are multiple areas or rooms can be another effective way to pull off larger groups while maintaining safety. Hold your ceremony outside and then gather guests in smaller groups that the wedding couple can visit while still maintaining safe group sizes. You can even pipe the ceremony into each room via a digital platform and remove the necessity of moving people around.
● Creative Alternatives: Okay, why not try something crazy. How about a ceremony viewed from a parking lot where guests stay in their cars and parade past the happy couple afterwards. Or turn that on its head, and let guests spread out in a large open space and revel as the newlyweds move from group to group via decorated golf cart. Get married on a rooftop while others watch from balconies or hold your ceremony in an interior courtyard of a hotel where balconies face inward and where guests can watch from the safety of their rooms.
● The Virtual Tying of the Knot: and, of course, as with everything covid these days, you can always choose to hold your wedding, ceremony and all, digitally. For an added touch, create a celebration package you send to guests with favors, perhaps a shared treat, and even a link to a digital register where they can share their well wishes.
So What's Likely to Change?
It's inevitable that should you choose to hold your wedding during covid that some things will be affected by social distancing measures. Here are some things you may want to consider as you plan.
Smaller guest lists are inevitable. This can be particularly tricky if you've sent out invitations pre-covid and have to disinvite guests. The good news is that you can blame venues for your size limitations as many have had to reduce capacity to meet covid restrictions. With a little forethought and some diplomacy, you can accomplish the disinvite off without causing offense.
You also need to be prepared to work with masks, provide hand sanitizer or hand-washing stations, and maybe even consider asking guests to sign waivers. Furthermore, you will have to consider spacing issues for seating, for dancing, and for food and drinking areas.
As far as food and drink are concerned, you will probably have to rethink your presentation styles. Although it has been popular recently to serve food buffet style, sharing utensils may not be the best option right now. Better to forego that family style meal or the finger food for individual plate servings. Some caterers are finding ways to create individual portions that don't require shared utensils, such as ceviche served on an oyster shell or delicious picadores skewered into a melon. Cocktail celebrations can be difficult, but if you're determined, consider the satellite model of multiple small stations spaced out over a venue rather than one or two large set ups.
Another concern will be that traditional preparation with the wedding party. The safest option is to share preparations via digital conferencing. Hairdressers and makeup artists are taking precautions such as wearing gloves and masks, using disposable applicators where possible, and sterilizing those that are not between usages. If you just need that personal feel, then book a space with multiple rooms where the party can prepare and where the bride and groom can move from room to room to share the experience.
Photography will almost certainly change as well. You will still be able to get those beautiful couples poses, but you will have to rethink large group shots. An experienced wedding photographer should be able to use techniques like staggered line shots or walking shots to make the group photos work.
Be sure to contact us today to see how we can still make your dream wedding a reality.
Written by Writer Megan Glenn